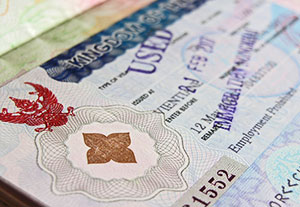 The 90-day non-immigrant visa is granted to foreigners who are looking forward to enter Thailand to study, to invest, for retirement and other objectives.
It has a validity of 90 days starting on the date it is issued. It allows the holder of such visa to stay in Thailand for not more than 90 days. However, the holder may be able to extend for seven (7) days and apply for an extension of stay.
Citizens and or permanent residents of Australia, Canada, EU Countries, Schengen Countries, United Kingdom and United States are eligible to apply for this visa. Citizens and permanent residents of countries that are not on the list can still apply depending on the objective of their visit to Thailand.
Requirements
The general requirements for the 90-day non-immigrant visa are similar to other visa types although some may really be different:
Passport valid for at least six (6) months starting on the date of the scheduled arrival
Invitation or Confirmation Letter
Embassy Fees
Proof of Financial Capacity
Travel Itinerary
It may be that the immigration officer will ask the applicant for additional documents such as police certificates among others to ascertain that the latter is no threat to the stability and security of Thailand.
What can be enjoyed through the 90-day non-immigrant visa?
Holders of the said visa may be allowed to choose to extend their stay in the country for a longer term by converting their existing visa to one year extension of stay (work visa, marriage visa and retirement visa among others).
What is the process?
The applicant should prepare all the necessary documents including the invitation letter if invited to go to Thailand.
Submit the application with the required documents at the Royal Thai Embassy or Consulate. The applicant can choose to either submit them by mail or in person.
Pay the related fees in cash, cashier's check or credit card.
Wait for the outcome of the application as it takes 5 to 10 working days for it to be processed. The processing period may also be affected on which embassy or consulate that the applicant has submitted his application.