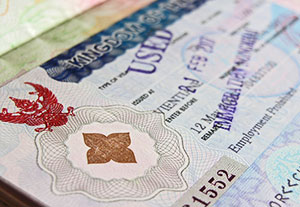 The Thai Marriage Visa or what is also known as the One Year Extension of Stay Based on Marriage provides its holder with a variety of privileges not normally given on other types of visas.
With the marriage visa, its holder may be allowed to work in Thailand provided that he has a valid work permit to accompany with his visa. Also, the marriage visa holder can stay in the Kingdom for one full year without the need for him to exit the country. And lastly, it can be renewed each year with the renewal can also be done within Thailand although requirements will still be asked from the applicant.
However, the Thai marriage visa can only be granted to someone who is eligible and the most important qualification to become one is being "married" with a Thai national. In other words, a foreign national who is "planning" to marry his Thai fiancée is not eligible for the said visa.
Aside from being married to a Thai, the following are the other but equally important qualifications set for an applicant of a marriage visa.
Financial Requirement
The applicant should meet the financial requirement and this can be substantiated through an updated bank book (passbook) and bank letter that provides attestation that the amount had been deposited at least 2 months prior the submission of application and that it was deposited from an overseas source.
The applicant must have at least 400,000 Baht at a Thai Bank Account for at least 2 months before the filing of the application or;
The applicant must have at least 40,000 Baht of monthly income. A certification from the foreign national's embassy verifying such monthly income should also be submitted or;
The applicant must have a combination of both Thai Bank Account deposits and monthly income that would have an annual total of at least 400,000 Baht.
Police Clearance and Medical Certificate
Under normal circumstances, these documents are not required when the application for a marriage visa is submitted within the Thai borders but there can be instances wherein an immigration official at the Thai Embassy or Consulate will ask for these.
The Application Process
As popular as it is, there is no direct application for a marriage visa. Meaning to say, it is not possible for an applicant to go to a Thai Embassy or Consulate and apply for a marriage visa.
What the applicant must first apply for is either a 90-day Visa or a 1 Year Non-Immigrant "O" Visa from his home country or country of residence.
When found to be qualified and granted with either of the two visas, the applicant for a marriage visa will have to activate the issued visa type by traveling to Thailand. He should bring with him pertinent documents for the marriage visa.
If he already have these documents ready and he is currently in the last 30 days of his 90-day permit to stay in Thailand, he can now file for an extension at the Immigration Office and submit the supporting documents.
The process may take about a month to finish.
It must also be noted that an expatriate with a Tourist Visa or a Visa Exemption Stamp may be allowed to apply for a marriage visa provided that he meets the requirements of a Non-Immigrant "O" Visa and the One Year Extension of Stay Visa.
He may submit his application at the Immigration Office in Thailand.