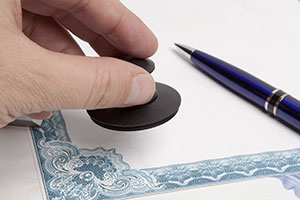 Thailand has no notary public unlike other countries. What it does have are lawyers who are given the authority to do notarial services in the Kingdom.
As the authority is only given by the Lawyers Council of Thailand, the regulative body for notarial services in the Kingdom, any lawyer aspiring to do notarial services must first go through and pass the required professional training course. After tackling and passing the course, the lawyer will then need to register as a notarial services lawyer.
If given the authority to provide notarial services, the fully registered notarial attorney can provide the following functions and services:
Verify whether the signatures on a document are authentic or not.
Certify the identities of those parties involved on a particular agreement.
Administer oaths and affirmations.
Attestation and certification of documents of different classes.
Stand as a witness for parties signing a document.
Lastly, it must be known that notarized documents in Thailand may need to be notarized or legalized further with the Ministry of Foreign Affairs of Thailand or at the embassy of the foreign national where such document will be turned-over. This is because Thailand is not among the signatories of the Hague Convention on Legalization of Foreign Public Documents.