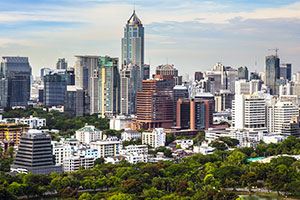 Majority or wholly foreign-owned companies may gain access to conduct businesses in Thailand not only by obtaining a Foreign Business License but also through the promotion by the Board of Investment.
Established in 1997, the Board of Investment's primary purpose is to provide investment incentives for foreign and local business entities by modifying investment promotion policies, open and promote other areas for industries not just around Bangkok and become pro-active in future economic conditions.
Board of Investment Promoted Activities
The Board of Investment has categorize its promoted activities into seven (7) groups which are further specified into different activities:
Agriculture and Agriculture Products
Mining, Ceramics and Basic Metals
Light Industry
Metal Products, Machinery and Transport Equipment
Electronic Industry and Electric Appliances
Chemicals, Paper and Plastics
Services and Public Utilities
The Privileges When Promoted By the Board of Investment
Incentives
When promoted by the BOI, the company will enjoy two incentives, the tax and non-tax incentives.

With tax incentives, the promoted project will have but not limited to corporate tax exemptions, tariff exemptions or lower tariff on the importation of machinery and or raw materials from abroad.

The non-tax privileges include the permission to own land and hire foreign experts for the BOI promoted projects among others.

Guarantees
Apart from the incentives stated above, the Board of Investment is authorized by the Investment Promotion Act B.E. 2520 to further provide the promoted project with guarantees and protection.

The government of Thailand guarantees that it will not conduct any project that would be of competition to the BOI promoted activity. It also guarantees that the said project will not be nationalize sometime in the future.

The promoted project can also expect that it will always have the liberty to export its products.

Protection
The government will impose additional importation fees on products from abroad which are the same with the products produced by the promoted project for a year. If the Board has come to a conclusion that the said measure is not enough then a ban of the said products of similar in nature with the promoted project will be imposed.

Foreign companies conducting business in Thailand, including the promoted ones, may find it difficult to sustain the said project considering the amount of unfamiliarity it has to tackle like the Thai process, culture and regulations. If this becomes a reality, the Chairman of the BOI can provide the level of assistance it must give.