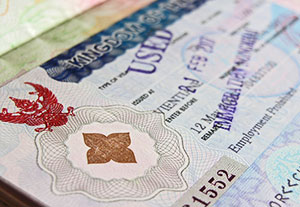 The One Year Multiple Entry Visa is for foreign applicants who are eyeing to stay long in Thailand. Its validity is for a year and at the end of the term, the holder of this visa type may opt to extend for three (3) months more.
Although this visa type shares similarities with the Non-Immigrant "O-A" Long Stay Visa considering that they both allow foreign holders to stay in Thailand for a year, they do have distinct difference i.e. the Non-Immigrant "O-A" Long Stay Visa (Retirement Visa) is for those who are aged 50 years old and above. Also, the Retirement Visa does not require its holder to exit and re-enter Thailand every 90 days.
With One Year Multiple Entry Visa, its holder needs to leave and enter the Kingdom at least once every 90 days.
Who is Eligible?
Eligibility applies to nationals or permanent residents of Australia, Canada, United Kingdom and United States but this does not mean that this visa is only for citizens of the countries mentioned.
Non-citizens of these countries, on some circumstances, may still be able to apply for a One Year Multiple Entry Visa.
What are the requirements?
At least 6 months validity of passport starting on the date of his arrival in Thailand
Letter of invitation/confirmation
Proof of financial capacity to travel and stay in Thailand
Embassy fee
Other supporting documents
Application Process
Firstly, the applicant needs to secure all pertinent documents and double check whether his passport still has room for another six (6) months starting on the date of his arrival in Thailand. He should also be responsible in obtaining and truthfully filling up entries on the application form.
This will be followed by the submission of these documents together with the application form at the Thai Embassy or Consulate in the home country of the applicant. He will then have to pay the applicable embassy or consular fees.
Lastly, the applicant will then have to wait for the outcome of the application which usually takes around 5 to 10 business days. The processing speed may also depend on which Embassy or Consular office it has been submitted.