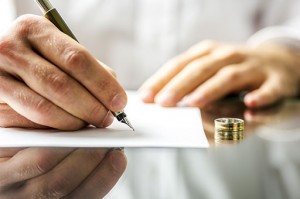 Contrary to common assumption, drafting a prenuptial agreement in Thailand is not a complicated process at all. It only takes for someone who wants to draft the said document to consult a lawyer with extensive experience on prenuptial agreement and of its governing law specifically Sections 1465 until 1469 of the Civil and Commercial Code.
What a Prenuptial Agreement is all about?
Basing on the applicable laws of Thailand, the prenuptial agreement outlines the:
assets of the marrying parties that they will be bringing into their marriage as well as how these will be managed accordingly.
how these will be divided in the event of a divorce.
terms not in harmony with the principles of Section 1533 and Section 1535 of the Civil and Commercial Code.
What makes a Prenuptial Agreement valid?
The applicable law of Thailand recognizes a prenuptial agreement in which it can be drafted in Thai and other languages as long as:
the couple are in full understanding of its contents.
the contents of the contract are not against the good morals of the law.
it should have been executed in the presence of two (2) witness and has been registered together with the marriage at the Amphur.
Our Family Lawyers
Although drafting one is a simple process, the role of a reputable lawyer in executing it is also crucial. This is to ensure that all entries herewith do comply with the applicable laws otherwise problems may still occur.
Please contact us if you are in need of our service in drafting your prenuptial agreement.